Friendship Day is celebrated on the first Sunday of August. The friendship is an event of dedicating a day in honor of friends which began in US in 1935. Gradually the Friendship Day gained vast popularity and today Friendship Day is celebrated in large number of countries including India with lots of enthusiasm.
Friendship Day is a day when you can share your feelings with your friends, or someone who is like your friend like lover, brothers, cousins, etc, its the day when you can celebrate your day with your friends, nearest and dearest ones.
Friendship Day Celebration Ideas
Friendship Day is the correct event to let your friends know how much they are close to your, how much they are cared, needed and loved. The best way to celebrate Friendship Day would be to spend in a way your friendship group enjoys and loves it most. Here are some Friendship Day celebration ideas just for you. So go ahead and have a beautiful Friendship Day celebration!
Organize a Friendship Day Party
Call your friends, and arrange a party where a group gathering could be happen, enjoy the day with lots of fun. One of the mostly used Friendship Day party is a picnic plan, decide a menu, a good place in natural environment, cooking with your friends. It will be great fun.
Gifts For Friends
Friendship Band
The most
popular gift for a friend is a friendship band. You may also gift your friends barcelets having beautiful designs.
Flower
Flower is the most easiest and conventional way to convey your emotion toward your friend
. You can either gift a single flower or can also gift nice bouquet of fresh flowers or roses.
Show pieces
To make the friendship day memorable you can gift your friends show pieces of your choice or according to your friend's choice. Sh
ow pieces made of wood, glass, crystal, metal, paper are available in the shops.
Chocolates
Chocolate are the
most yummy and delicious gifts for the foodies and it is one of the way to express feelings towards your friends that how much you take care of your friend's choice.
Soft Toys
Soft toys are one of the way to express your sweet and cute friendship to your friends also.
Photo Frames
Photo frame is one of the best way to save the memories ever green
by taking photos of your friends that you
have once spent a lovely time together.
Books, Cds
Book is also a good gift f
or those of your friends who like to read and want to spend a long time with it.
Cds are also a good gift for your friends who like to listen musics.
Stationary
Stationary items like pens, writing pad
, diaries can also be given as friendship gift.
Jewelry
Jwellary is also a good way to show your friends that they are that much precious to you.
Candles
Now there are various types of candles are available in the market which have beautiful

outlooks and also a good gift to present and to make a warm atmosphere for celebration of the day.
Hand Made Things
A friend always want due care and love from his friends, anything whatsoever whether it is a bag or show piece, or greetings or any other things,

if that is made by your own hands then it adds an extra flavor in your friendship.
Watch
Now various types of watches are available in the market and it is also a good item as a gift to present on friendship day.
Greetings Card
Friendship Greetings Card are also
a nice and simple way to give your friends to show the simplicity of your friendship.
Now wish your friends by sending
Friendship Day Cards
on friendship day and celebrate the day.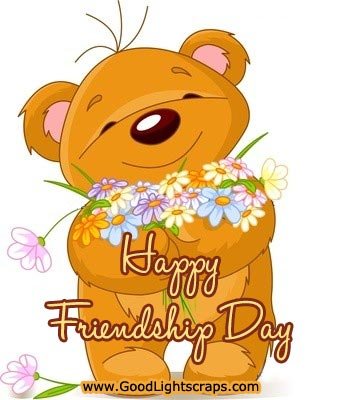 GoodLightscraps.com