New Year is the juncture of time where we welcome the coming year by saying good bye to the previous year with great spirit and enthusiasm. The whole world is decorated with joy and entertainment. Almost every corner of the world celebrates this event. It is the biggest festival of the world and most ancient also. People overwhelmed with great enthusiasm to celebrate this event. New Year brings hopes, love, prosperity, entertainment, fun and new ambitions and inspiration along with it. The foggy morning, chilly nights, yellow leaves of trees, the warm and golden sunlight and the touch of cool wind make us feel that New Year is coming.
New Year Glitter


Scraps, Images - GoodLightscraps.com
There is an ancient history behind the celebration of New Year. If we turn back to past we can see that it was first celebrated in
Mesopotamia
in around 2000 B.C. This event was celebrated in the month of spring on the first new moon light and this tradition had been followed for so many years that is up to 150 B.C. A similar kind of festival also celebrated in Egypt and Persia on the Equinox, which comes under the month of winter season. But after that the Romans change the date of New Year according to Gregorian calendar and fixed the date 1st January as the first day of New Year. This attempt was taken by the famous Roman king Julius Caesar and till date it is continuing.
We can see difference in celebration this event through out the world as most of the countries celebrate this event in their own way although the pattern is same all over the world. United States and France organize parades to eulogize the event where in Spain and China people take dinner with their family and then go out for celebration. Natives of Brazils come out on road for celebration; they celebrate New Year festival with colourful props, making loud noises, having festive foods and drinks and with singing and dancing on rocking tunes.
People generally decorate their houses, go for dinner or lunch with either their family or friends or beloved one. They do shopping for gifts to exchange with their closed ones and even wishing through greetings cards are also very popular whether through online by sending scraps or through purchasing from shops. People buy balloons, firecrackers, and accessories for decoration. Many hotels, restaurants and clubs through party on the New Year evening, roads and buildings are decorated with artificial lights and people play jolly songs to enjoy with full of joy and fun. People also buy new costumes to wear on this event. As the time comes soon, people release balloons in the air, makes sounds in loud and burn firecrackers.
New year also a good time make resolutions to sustain this happiness and joy through out the year and make life more successful and peaceful. Let's have a good hope to make good fortune by saying bye to the previous tensions and worries and make it blissful.
New Year Glitter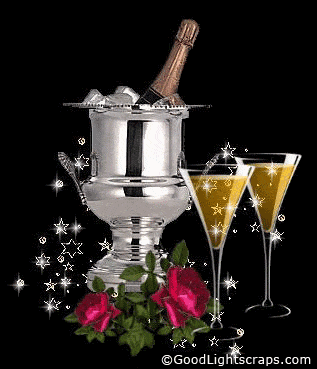 Scraps, Images - GoodLightscraps.com
New Year 2011 will be on Saturday and wish you all a very happy and prosperous Merry Christmas and New Year.