The holy festival Durga Puja is also known as Dorgothsab is celebrated with full of joy and enthusiasm in whole India and and is specially famous in North and East India. It is the main festival of Bengali's in West Bengal. Except West Bengal, in Delhi, Maharastra, Tripura, Jharkhand, Bihar, Orissa, Chennai and also at other places it celebrates fully. It Is a 5 days festival, where Ma Durga, the goddess of power, also known as Sakti is worshiped. The festival starts from the day Maha Sasthi, Then serially comes the days Maha Saptami, Maha Astami, Maha Nabami and finally Maha dasami, the last day of this festival ends with immersion of Ma Durga. The date of Duyrga puja generally decided according to the bengali calander which generally held between the months September and October.
GoodLightscraps.com
There is a mythology behind this worship as it is said that at the time of rescuing Sita from the demon king ravana, King Ram worshiped ma Durga as to get her blessing to get win against Ravana in the war. This is also known as 'Akalbodhan'. Another one is that Ma Durga waas been permitted to meet with her mother only nine days in a year and so her return to her mother for nine days is celebrated by worshiping as Durga Puja.
GoodLightscraps.com
Some households also organize this puja at home and it becomes a family get together and for enjoyment, stage performance, such as dancing, drama, Jatra- all these use to be happened. They cooked various dishes and also maintain carefully all the rituals that to do for this puja. They generally make or buy ek chala idol for worshiping. Beside of it, apart from this traditional way, baroari puja that is where a puja use to be organized by people of that area by collecting money which known as chanda, donetion. Here Mandaps (pandel) are made by following various themes. Some make pandels as like Taj Mahal, by copying various palaces belongs to Rajasthan, Gujrat etc. Some also make their pandels on the basis of such kkinds of themes and the idol of Ma Durga also is made on the basis of that theme. In Kolkata Kumartuli is famous for making idols. So at this time and also from the prior to this puja the potters have a busy schedule in making these idols.
GoodLightscraps.com
The whole kolkata and also the other areas of West Bengal are decorated with various types of lights and Mandaps. People use to wear new dresses on this occasion, and it is a main characterristic of Kolkata puja that a huge people gather on these five days to see the pratimas (idols), pandels, lightnings etc. To maintain the huge crowd police and volunteer camps organized by many institution are enforced by government and private organizations. People enjoy to see all these over the night and special trains and transport systems are also use to be available on these days. People generally visits pandels by walking for hours and hours. Restaurants specially prepares bengai dishes and also prepares their own special items, they also use to open it over the night and people also enjoy eating food at those places. They play songs, arrange stage programmes, quiz, contests etc and tv channels also cover news from different places and they alos organize so many contest with attractive prizes. So many travel agencies oraganize citty tours for the individuals to visit famous pandels and idol of Ma Durga with reasonable price. Lastly On Maha Dasami the festival ends with immersion of Ma Durga which is called 'Visharjan' and people meet together to wish Happy Bijaya Dasami with sweets either by going to their relatives' home or through telephone and internet.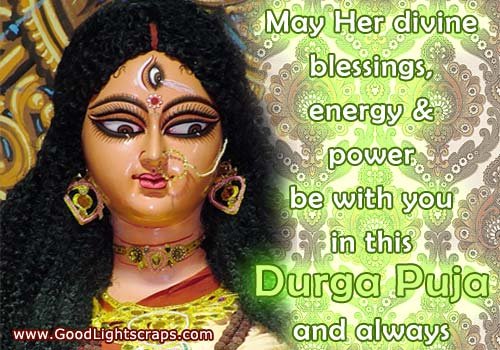 GoodLightscraps.com
Generally this festival brings joy and hapiness alsong with it and people also forget all their works, their busy life and tiredness and come forward to enjoy. People get freshness from their busy and boring schedule and get relaxed and this festival also brings a good business for the businessmen. On these days all individuals come out to enjoy whether they are Hindu or not but they come forward to make a happy and joyous environment.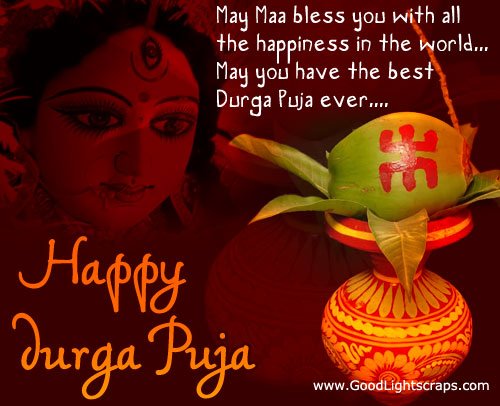 GoodLightscraps.com
Get Durha Puja SMS here
Get more information on Durga Puja Festival here