Rakhi is a divine festival of Hindu religion. It generally celebrates on the full moon of the bengali month of Shravana. This occasion is mainly dedicated to the relation between brothers and sisters. It was started from the period of Mughals.During war king Himayu's sister presented a thread to him and said that if he wins the battle then he has to protect her through out life.
Rakshan Bandhan Scraps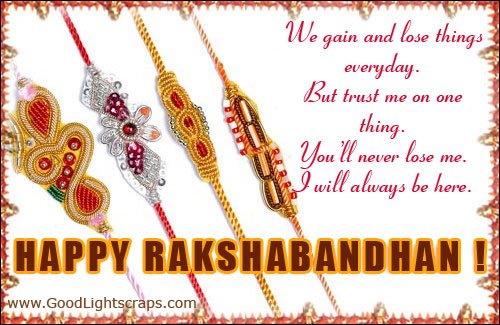 Free Greetings
There are some historical facts related to the significance of Raksha bandhan. One of the important incident is concerned with Krishna and Draupadi story from the epic Mahabharata that Draupadi had torn a strip of silk from her sari and tied the thread on Krishna's index fingure to stop bleeding and Krishna repaid the debt of love at time of Bastra-Harana of Draupadi. Another legend is related with the story of the Lord of Death Yama and his sister Yamuna that Yamuna tied thread on the wrist of Yama and bestowed immorality and after that Yama declared that whoever gets a Rakhi from his sister and will promise to protect her for life time will get immorality. Since then the tradition is going on from generation to generation.
Rakshan Bandhan Scraps

Free Greetings
Raksha Bandhan is dedication of sacred love between brothers and sisters. Generally sisters tie thread on the wrist of their brother and pray for long life of their brothers and brothers in return give them enticing giffts and also promise to protect their sisters throught out life. Here blood relation is not necessary anyone who has a feeling of brotherhood towards any girl can get a rakhi and they can bind themselves in brother-sister relationship. It is an occasion to show the devine love and trust between brothers and sisters towards each other that they share from the very childhood. Raksha Bandhan has a social significance also as it also teaches people that they should live in a harmonious coexistence with each other. It binds all the family members in a stronng chain to live together happily everafter. On this very day brothers-sisters both feed each others by sweets. Raksha Bandhan is a tie of love, affection, trust and committment between brothers and sisters which strenghten the bonding of relation between each other.
Rakshan Bandhan Scraps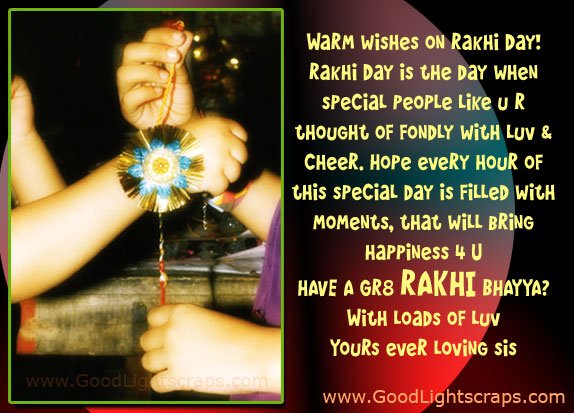 Free Greetings