Christmas - the prime festival of Christians is now broadly celebrated in the world. It is a holiday generally takes place on 25th December. People celebrate this festival to commemorate the birth of Jesus, the central figure of Christianity. Christmas is the central of Christmas and holiday season and also indicates the beginning of the larger season Christmastide and lasts for twelve days. Although Christmas is celebrated on 25th December but the preparation for Christmas celebration starts many days before. Christmas is festival of gifts, carols and feasts. It is celebrated with great enthusiasm and with great zeal.
GoodLightscraps.com
Although Christmas is the major festival of Christians but now it is celebrated world wide. It becomes a public holiday in many countries, even to those places where most of the people are non-Christians. Countries like Japan, Korea, Christmas has become popular and people of these places have adapted many aspects such as gift exchanging, decorations and Christmas trees. Christmas has become a formal public holiday in so many countries such as China, Japan, Saudi Arabia, Algeria, Thailand, Nepal, Iran, Turkey and North Korea. Among the countries, maintaining the strong Christian tradition, the celebration of Christmas has been developed in corporation with local and regional cultures.
Christmas Scraps

Get More
Orkut Scraps
at Scrapsplanet
There are two types of stories regarding the birth of Jesus. Theses Bible accounts are found in the Gospel of Matthew and in Gospel of Luke. According to these stories Jesus was born to Mary, assisted with her husband Joseph, in the city of Bethlehem. The popular story is that Mother Merry gave birth of Jesus in a stable, surrounded by farm animals. Here one Manger has been mentioned, where its stated that "She wrapped him in cloths and placed him in a manger, because there was no room for them in the inn".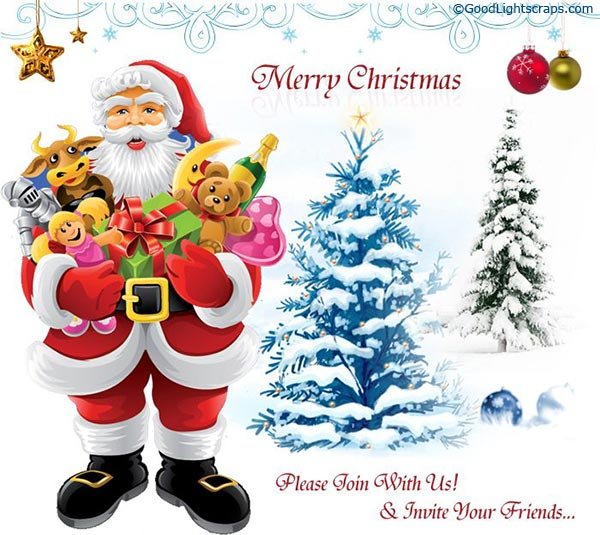 GoodLightscraps.com
On this special festival all members of family spend together and decorate their houses both inside and outside and spend times in baking cookies, making fudge and preparing a big dinner with all trimmings. They go for shopping to exchange gifts with friends, relatives and loved ones. Children at this time love to spend with their friends and to show their gifted toys, chocolates that Santa Claus brought foe each of them.
Christmas Comments

Get More
Orkut Scraps
at Scrapsplanet
The festival signifies God's endless love towards people. People on this very day bring Christmas tree and decorate it with various lights, Christmas balls, they also decorate their houses with jingle bells. The concept of Christmas tree has been derived from "Paradise Tree" or "he tree in the Garden of Eden." On this very day children believe that Santa Claus will come to them and will gift them chocolates, and other gifts. A man wearing red and white clothes and along with eight flying reindeer is known as Santa Claus. Churches are decorated with flowers, beautiful lights, and various beautiful candles and with bells. Music and Carols are played on Christmas evening and people celebrate this evening with having foods and even greet others with beautiful Christmas cards. Christmas stamps are also famous in this regard.
Christmas Comments

Get More
Orkut Scraps
at Scrapsplanet
Christmas generally bring a massage to people to live with love, peace and god is always there with them to give them blessings forever in life.